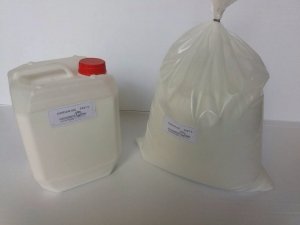 Properties
The glue ADHESIVE PROOFING HYPERSTONE adhesive is a two component, high-performance elastic adhesive
The A component(mortar) consists of cement, marble of selected granulation, acrylic resins and special chemical additives which give the product: Excellent strength, high adhesion strength, elasticity, zero slip and resistance to severe climatic conditions
The B component (emulsion) It consists of a special type of acrylic dispersion, water and chemical additives
The glue ADHESIVE PROOFING HYPERSTONE adhesive overlays C2 TE S2 according to EN 12004 and EN 12002
   Applications
The glue ADHESIVE PROOFING HYPERSTONE adhesive is the most suitable and guaranteed to bond and groom the Hyper stone on all kinds of mineral base surfaces, indoors and outdoors.
In addition, it is suitable for bonding all types of absorbent and non-absorbent ceramics, granite tiles, natural and decorative stones, EPS and XPS to floors and walls, indoors and outdoors.
Ways to apply stone welding Proofing Hyper Stone
Surface preparation Surfaces must be free from loose particles, oil, dirt and dust. We seal any large cracks and gaps with the appropriate material. Especially during the summer months, lightly soak the surfaces without leaving puddles.
Typical mineral base surfaces with normal absorbency do not require priming.
The old plasters are primed with a solution of 1 kg of emulsion with 1.2 kg of mortar.
In places subject to increased humidity, where there is rising moisture, where we want to prevent the passage of moisture to the substrate, even when the moisture is coming in the opposite direction (negative pressure), it is necessary to apply the surface waterproof membrane waterproofing membrane. In this case, the welding of the stones should be done when the waterproofing membrane has dried, but before it completely dries.
For other cases of application, consult the relevant table to select the appropriate primer
Preparation of mixture In a clean container add the B component (emulsion) and shake gently. While stirring, add the mortar (component A) gradually and stir for 5 minutes until a uniform, lump-free mixture is reached. Let the mixture ripen for 5 minutes and re-mix it for a while.
Application Apply the adhesive with a metal spatula on the surface and comb it with a 5mm toothed spatula. Place the stones in place within 15 minutes of laying the glue before brushing it, pressing them to ensure complete fit.
Mixing ratio: 2.5 / 1 ie 2.5 kg of A component (mortar), are added to 1 kg of B component (emulsion) without the addition of additional water
Pot life 5-6 hours with periodic stirring, also dependent on weather conditions
Assembly The grouting of the stones can be done with the same material at the same time as welding.
The product will be suitable for light use 7 days after application, and its full features will be achieved 28 days after application
Consumption
2 – 4 Kg / m2 Consumption also depends on the size of the spatula and the roughness of the substrate
Storage – Shelf life
The product is stored in closed containers and weather-protected rooms for 12 months after the date of production
TECHNICAL DATA
Initial adhesion strength ………………………………… ..> = 1 N / mm2
Adhesion resistance to storage at temperature> = 1 N / mm2
Water resistance to water retention ………..> = 1 N / mm2
Adhesion to freeze / thaw cycles> = 1 N / mm2
Open time 30 min
Slide <0.5 mm
Application temperature +5 ° C to + 30 ° C